MARCH EVENT: Campus Film Premiere

Friday, March 3, 2023  Rutgers University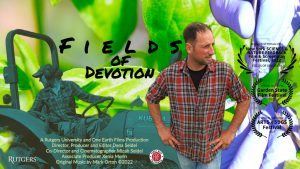 When climate change-induced diseases wipe out farmers' fields, growers turn to scientists for help. 
Fields of Devotion, 
a 30-minute science-in-action film, follows the decade-long partnership between Rutgers plant biologists, the New Jersey Agricultural Experiment Station (NJAES), and New Jersey small family farmers as they work together to develop resilient basil crops.
A story of hard work, collaboration, and innovative solutions for a rapidly changing world, 
Fields of Devotion
 is told from the perspective of local farmers and plant biology graduate students who together help realize Rutgers' land grant mission of community engagement and academic excellence.
Secure your seat for this exclusive free documentary screening, including a panel discussion and networking reception.
Registration is now closed.
Event Location:
New Jersey Institute for Food, Nutrition, and Health
School of Environmental and Biological Sciences
Rutgers, The State University of New Jersey
61 Dudley Road
New Brunswick, NJ 08901-8520
IFNH, George H. Cook Campus
This event is free but registration is requested to ensure seating.